Now Offering Precision Waterjet Cutting Services!
ONE OF THE LARGEST WATERJETS IN ONTARIO!
Looking for ways to cut costs, reduce waste and increase productivity? China Steel can help with our new Jet Edge waterjet cutting system!
Precision You Can Count On!
13' x 24' Cutting Capacity
Dual Independent Cutting Heads for Maximum Productivity
Extreme Pressure Intensi?er Pump - 90,000 psi rated
12" thick cutting capacity
+/- .005" - .020" tolerance capabilities - depending upon thickness
Cuts virtually any material
Waterjet Applications
Waterjet's ?exibility makes it useful for many applications, including:
Cut virtually any material
Shape cutting of stainless and nickel alloys – most to net shape
Blank cutting of parts for ?nal machining
Short and long-run lots of sheet metal parts
Screen cutting without burrs or warping
Converting plate stock to bars
Precision cuts in both thinner and thicker stainless steel and nickel alloys
Intricate shapes in delicate materials
Custom shims in stainless steel and exotic materials to 6" thick
Tube cutting without e?ecting its inner diameter
Create parts, not chips – no machining
Waterjet Benefits
Achieve Tight Tolerances
Eliminates Heat-Affected Zones
No secondary Finishing Required!
Tight Nesting Reduces Material Waste
Cuts Thick Materials
We Cut Virtually Anything…
Round Flanges
Gears
Flights
Square Flanges
Lifting Lugs
Bars
And much more…
---
High Definition Plasma Cutter
Dual head HyperTherm HPR400XD Edge Pro, 12.5' x 82' - offers maximum performance and productivity in x-y, bevel and robotic cutting operations. The versatile 400-amp rated system combines fast cutting speeds, rapid process cycling, quick changeovers and high reliability, and delivers the ultimate in HyPerformance mild steel cutting, plus aluminum capability and unmatched stainless steel cut quality.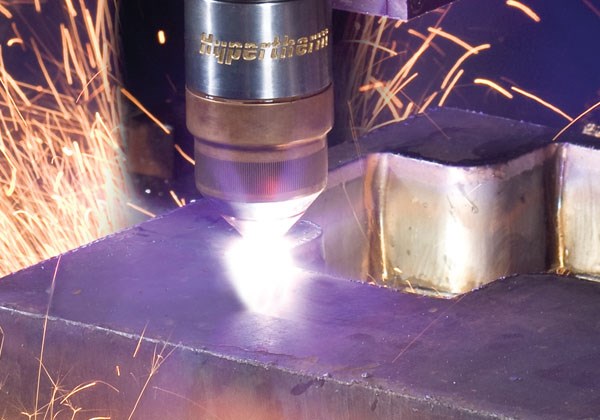 ---
CNC Shear ½" x 10'
Automatic Hydraulic Bandsaw: Hyd-Mech M20 A, 20" x 30" Auto Feed & Tilt Thru 45°